GAP MISSIONS
Catch a heart for missions here! See the many global outreach works we have the opportunity to partner with and support.
ANTIOCH MINISTRIES INTERNATIONAL
VISION
A contending House of Prayer
Meeting Needs
Ministering to People
Mobilizing Laborers
CONTACT
SUMMARY
It is our conviction that the Church in right relationship with God, as obedient disciples of Jesus and filled with the Holy Spirit is the only hope for change in this generation and every generation that follows. We have been working in Southern Thailand for the last 14 years and the Lord is leading us to the Capital City of Bangkok for the next season of our ministry. We are believing to see churches planted in the 50 different regions of the city that each have a population of 100k or more. The current population of Bangkok is 8.2 million with an Evangelical population of less than 300K.
CHRISTIAN FAITH MINISTRIES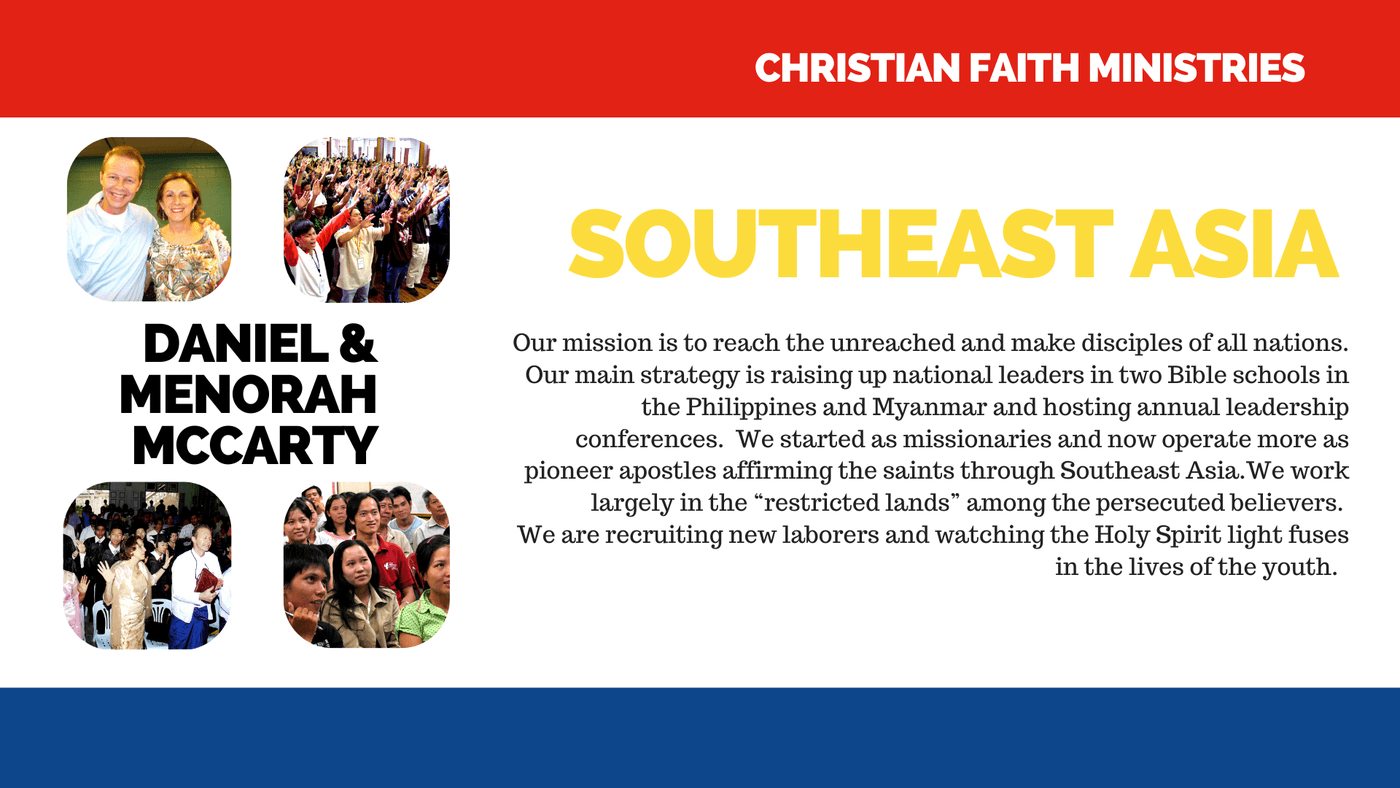 More monthly partners
New recruits
Finance and expand existing Bible schools
Build new facility on new property in Myanmar
SUMMARY
We have been full-time missionaries since 1972. In 1986 our family embarked on the greatest missionary venture of our lives and moved to the Philippines. The ministry exploded. Multitudes came to Christ and Bible schools were born. What began as one family's desire to help local pastors has now become a ministry recognized across Asia for its impact on thousands of lives in 6 different nations.
CONTACT
FACEBOOK: HAPPY FAMILY OVERSEAS MINISTRIES
DANIEL J. MCCARTY
MENORAH MCCARTY
NATHAN AND KAREN RASMUSSEN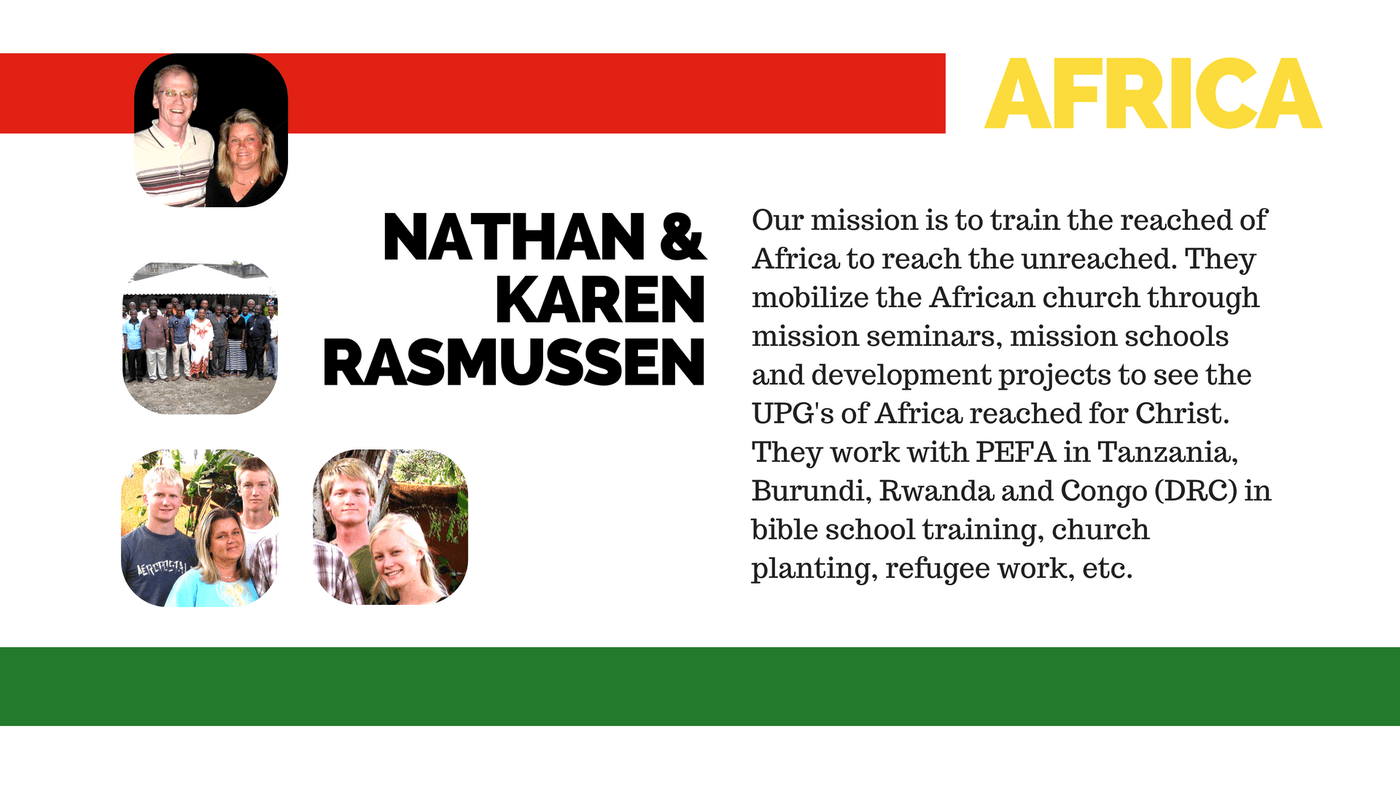 Minister's Training Program
Nathan and Karen Rasmussen
CONTACT
CARL CADY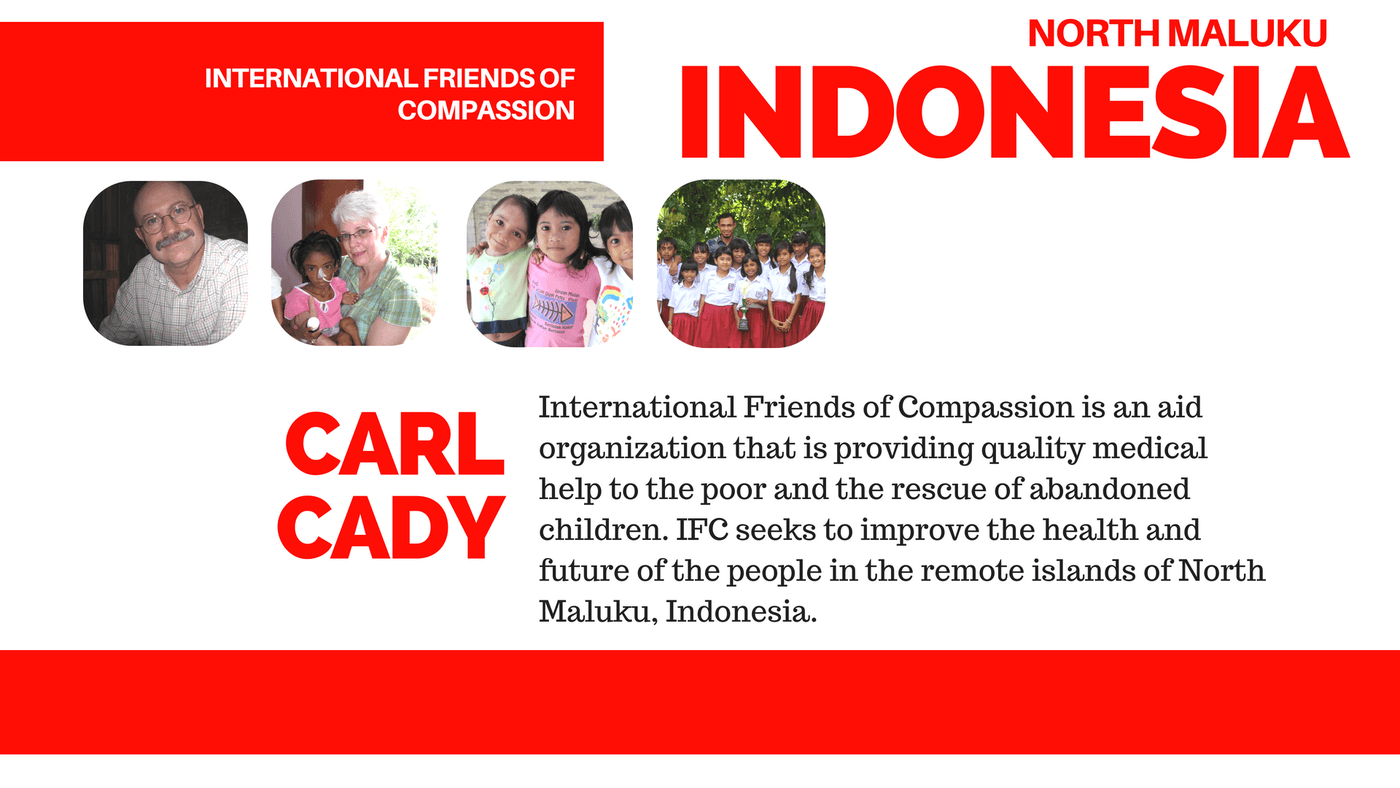 IFC is building a School for the 55 orphans in our care, the first of 15 buildings is complete.
HIV/AIDS and Leper Care are huge challenges. IFC has a vision to build a 100 bed HIV/AIDS hospital.
We continue to show the love of Christ to the 10,000 patients who are served at our clinics and hospital annually.
SUMMARY
In 2001, Carl Cady went to the refugee camps in North Indonesia and saw the suffering of the Christians who had lost everything in attacks on their villages. He began IFC to provide food, clean water and medical help to those in the time of loss and suffering. Carl has led IFC for the last 15 years. Carl and his wife, Cathy, pastored for 20 years prior to starting the aid work in Indonesia.
CONTACT
Carl Cady
Indonesia