INSTITUTE OF BIBLICAL STUDIES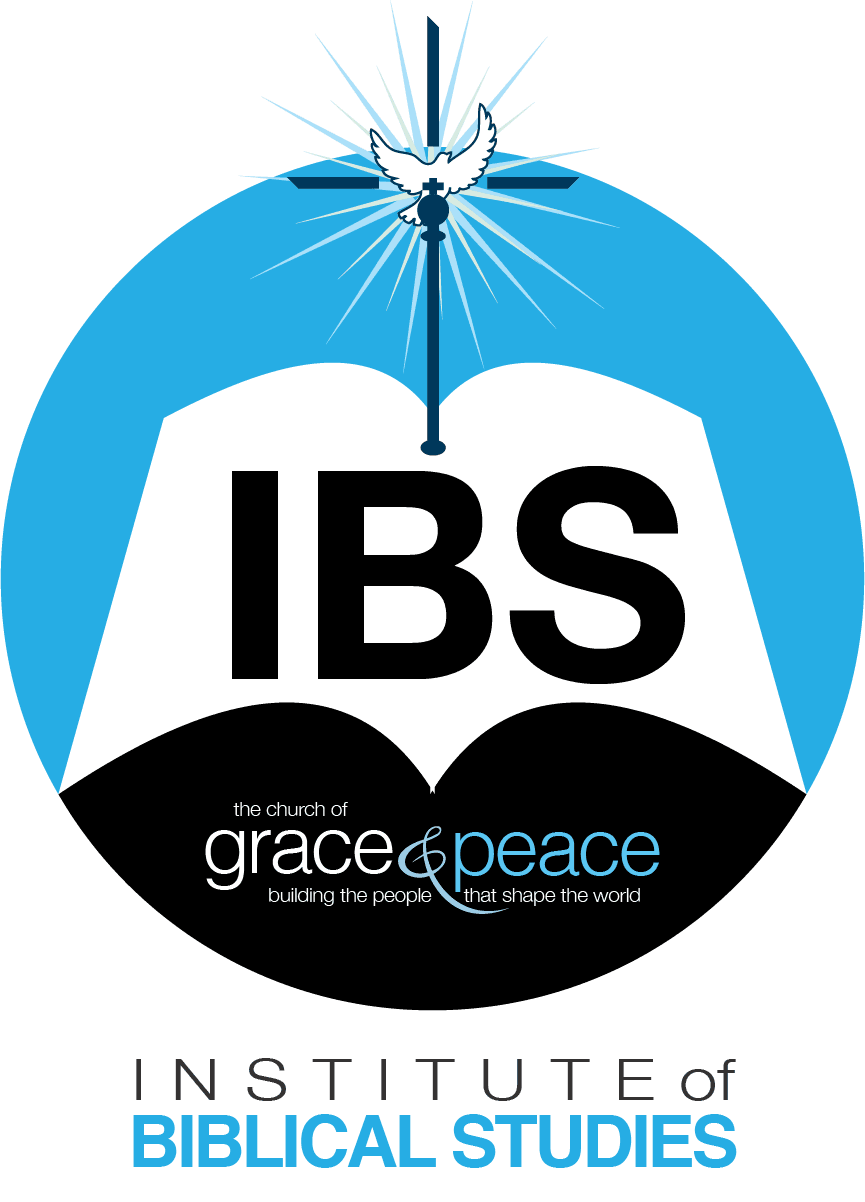 SPRING SEMESTER (2nd of 6 semesters)
Starts Thursday - January 19th – 2023
Orientation for new students is Thursday, January 12th.
Applications are available below.
Applications are due by Sunday, January 8th.
To teach the Word of God, uncompromised and unadulterated, seeing the saints equipped for the work of ministry." Grace and peace be multiplied to you in the knowledge of Him." 2 Peter 1:2.
The Grace and Peace Institute is the child of the vision of The Church of Grace and Peace and its Senior Pastor, Walter W. Healy. We are here to teach the Word of God, uncompromised and unadulterated, seeing the saints equipped for the work of ministry. We are primarily a Bible school, rather than a doctrinal school. We are here to teach a survey of the Bible from Genesis to Revelation. There are also major Christian Doctrines that are included in our curriculum. It is a six semester looped curriculum of studies (where a student may enter at any semester in the six semester cycle without having a previous semester as a prerequisite).
We have classes in:
Old Testament Studies
New Testament Studies
Theological Studies
These classes are taught one night per week. The six semesters encompass a three year time span, with Fall semesters (September through January), and Spring semesters (January through May). We use a 288 scriptural systematic lesson format prepared by biblical scholar Dr. Harold Willmington. Whenever it is possible (depending upon the length of the biblical book), we have a chapter by chapter study. There are also college credits available to the graduate from Liberty University of Virginia. (We do not offer ministerial license or ordination.)
Why should one attend such a school as ours?
1. Today in the perilous times we live in, we find that reading our Bible is not enough, we find that we must study it! The Bible protects us from the world, the flesh and the devil. It provides us, by the Spirit of God with grace, godliness and guidance.
2. Many saints have longed for the structure of a book by book study of God's Word and the discipline of systematic instruction of the Bible that can bring them an understanding of the scriptures that they desire.
3. The Bible alone provides the answers to man's trillion dollar questions - Where did I come from?, Why am I here?, Where am I going?, How can a man know God?, How can I please God?, How can I know His will for me? We endeavor to not only point a saint to the scriptural answers to these questions, but to bring the knowledge and the understanding of His Word, with the Spirit led interpretation and practical application for one's own life.
4. Did you ever consider that the very One who formed you has written this Bible to you? This is an opportunity to get to know its author to a greater degree.
5. When possible we present to the students a variety of qualified local ministers from various Churches, who can contribute to the class from the uniqueness of their own spiritual gifts and professional experience.
6. We are a full-gospel Bible school, ministering to the whole man - spirit, soul and body (see our Tenets of Faith).
7. We believe we are here to serve the Body of Christ and to teach the Word of God to all who have an ear to hear and a heart to serve our risen Savior.
The three most common lies of the enemy to keep you out of Bible School:
1. "I'm not called to the ministry, why should I go to Bible school?" - All are invited by the Holy Spirit to study the Scriptures. It does not take a special 'calling' to study the Bible. All Christians are called ministers of reconciliation (2 Corinthians 5:18-20).
2. "It's been so long since I've been in school" or "I was never very good in school." - God will not one day examine our heads, but our hearts and what we did or did not do for the kingdom. If we had to be intelligent to know the Bible, then only the intellectuals could know God; and we know this is not the truth of the Scriptures. We should endeavor to pursue a simple and pure devotion of the faith. We're not our to make 'head' Christians, but rather 'heart' Christians.
3. "It looks too expensive" - rather, it's a matter of priorities and stewardship. It's amazing that Christians find the money for to pay for TV, movie rentals and things that will just pass away; but the money for eternal matters that would affect their soul can't be found. After all, if we desire something strong enough, somehow we find the money for it.
NOTICE
The Grace and Peace Institute of Biblical Studies admits students of any race, color and national or ethnic origin.
GAP Institute Fact Sheet
The Grace and Peace Institute of Biblical Studies is a Biblical educational outreach of The Church of Grace and Peace
(1563 Old Freehold Rd., Toms River, NJ 08755)
Pastor Walter W. Healy, School Founding President
Pastor Ralph E. Freda, School Founding Director
Student Entrance Qualifications
1. A desire to learn the Word of God
2. Adequate ability to speak, read and write English
3. Abide by the school's policies
Curriculum
1. Six semesters (Fall and Spring per year), covered in three years. Each semester is 16 weeks in duration.
2. 96 Lessons in Old Testament Survey Studies, 96 Lessons in New Testament Survey Studies and 96 Lessons in Major/Orthodox Theological Studies
3. Text used: Willmington's Guide to the Bible and supporting materials.
Graduation
18 College Credits are available from the Liberty University Life Long School of Learning, Lynchburg, Virginia.
Requirements for Graduation:
1. Complete required curriculum
2. 2.0 (C) overall grade average
3. Complete assigned reading material
4. Read Bible through at least once in the three year curriculum
Class meets Thursday evenings, from 7:00pm to 9:15pm, at the
Church of Grace and Peace
1563 Old Freehold Road
Toms River, NJ.
Class visits for prospective students are allowed (no more than 2 times).
Class Schedule (each class is 40 minutes; three per evening):
7:00pm to 7:40pm - Class I
7:45pm to 8:25pm - Class II
8:35pm to 9:15pm - Class III
TUITION AND FEES
Registration (per semester).................................................$10.00
Tuition (per semester).......................................................$100.00
Books (a one-time purchase)..............................................$75.00
Family Attendance (within a semester):
The Grace and Peace Institute encourages family attendance.
1. Students must be at least 16 years old (with parental permission).
2. The first member of the family in attendance is charged full tuition, the second family member is charged half tuition ($50.00) and the third and sequential family member(s) are charged quarter tuition ($25.00).
3. All in attendance under 18 years old are charged half tuition ($50.00).
4. When more than one member of a family attends, only one set of books is required.
Miscellaneous:
1. Ministers - Ministers (licensed or ordained) may attend tuition-free.
2. Tuition is waived to those who tithe (10%) to the Church of Grace and Peace whether they be members of it or not. Those who do not tithe (10%) to the Church will pay the full tuition whether they are a member or not. It is the philosophy of the Board of Elders of the Church, that it has an obligation before God to provide Biblical education to those who tithe (10%) to the Church; thus a blessing to the tither. Registration and book fees are never waived.
Payment:
1. Tuition - The manner in which tuition is paid is in the choice of the student. Tuition may be paid in full before the semester begins; or before the semester closes; or in two or three installments during the semester.
2. Registration is due no later than the first night of class. Registration will hold your seat/placement. It is therefore recommended that registration accompany the application. Returning students should register at least two weeks in advance.
3. Books must be paid in full before the first night of class.
HOW TO MAKE APPLICATION
For more information call Pastor Ralph Freda @ (732) 349-1550
Voice mailbox #213 or fax us at (732) 286-6311
Let us know you heard about it on the INTERNET!
PLEASE READ THE APPLICATION PACKET BEFORE SUBMITTING AN APPLICATION
TUITION AND FEES
Tuition and fees may be paid by check or money order payable to Grace and Peace Institute or GAP IBS.
Online payment is available as well.